We celebrated Lola's first birthday today (but its not til Tuesday). Can't believe a year has gone by! She is growing so quickly and is so beautiful! She played and smiled the whole time, loved eating scrambled eggs and beans too! She crawls so fast and is nearly walking! I had a chance to have a play with my new camera too but there is so much to learn!!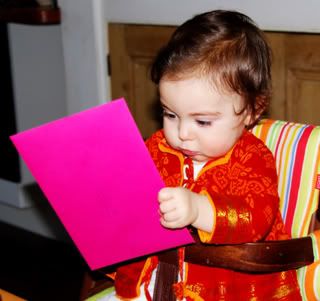 This photo was taken at Xmas - isnt it a great one of my Dad and Lola??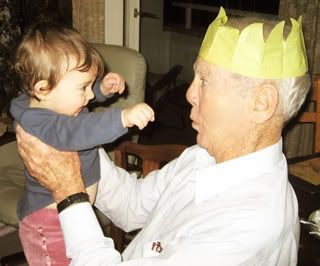 Since I havent had my EHD and I haven't done any digiscrapping nor photo manipulations, actions etc in like 4 weeks (!!!!) I think I have forgotten everything!! Hhhhmmmmmmmm!!! So starting tomorrow I am going to go through everything that was covered in the two classes and keep practising! Blimey, that is scary - hope its a temporary lapsus of memory!! Definitely need to get up to speed again!
Ginger cat is still here! Yeah ok I know its Sunday. But I really hope they come to get him next week so that the girlies can get back to their normal routine! He spends the whole day either asleep on my futon or wanting to eat!!